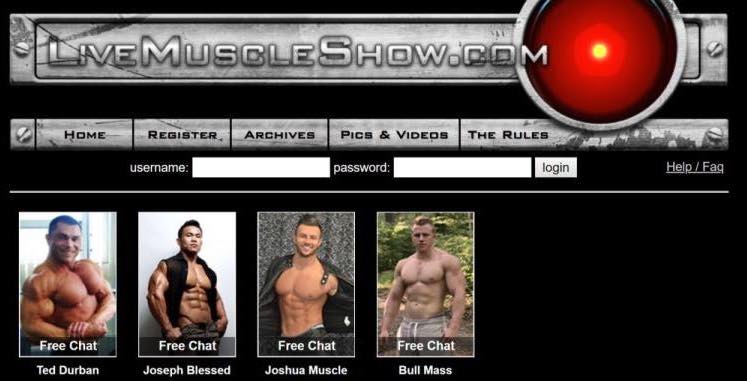 Let's face it, having a great, sculpted body takes some hard work, and watching muscular studs flex is hot at hell. That's the premise of this site, or at least what it's promising to be. If you're into bodybuilders, then watching them work out, and seeing as sweat makes their six-pack stand out is a dream come true.
Watching hot guys flexing and posing for you has immense value, but it largely depends on the quality and how it is presented to the consumer.
There are a lot of gay cam sites out there on the LiveMuscleShow.com, and the majority of them have a bunch of hot studs, so can this one offer something out of the ordinary?
Severely outdated design
The first sight you're going to be greeted with is absolutely horrendous. A steel-theme website that looks like terminator himself made it back in the early 2000's. Despite getting stunned I picked up the courage and dwelled deeper by clicking "Accept" so I could enter the site, hoping my first impression is going to get somewhat better, and surprise, surprise, it did not.
The homepage is kind of more of the same, except you get to see a long list of models, and some who are online, as well as pics and videos, archives, and purchase section.
If you are looking for some quality gay cam sites we have listed them on the MyGayCamSites.com for you all and you are guaranteed to get lots of great live action when you visit them.
The whole look is making it seem as if it was a scam, and I was even questioning whether or not to continue, but for the sake of others, it had to be done.
There were a couple of models online so I've tried watching their shows, but as expected I am supposed to create an account, which was pretty basic.
What happened next had me really disappointed, the cams still run on adobe flash player, which most browsers do not even support, so I had to go through the hassle of activating it just to see what's going on.
Inactive Community
I've had the pleasure of choosing, oh wait, no I didn't, there was one guy online, so I obviously picked him. His picture looked promising, but I couldn't really tell because the camera view was focused on his hand, and I got a close-up of his pores.
In the meantime, a couple of other guys started camming, so I went over to check them out. One of them was nothing like he seemed in the pictures and actually was unresponsive.
The third and final one was spot-on, responsive, and really up for some action, but the camera quality was pretty bad, as is with all the guys that are camming here, and the money that was sent made no difference at all.
That's it, a total of three guys on a supposed live sex cam, during a weekend when shows are supposed to be packed.
It comes as no surprise that paid content is scarce, especially pics which cost $2, and videos which are $10-$30, and you only get a preview from the beginning, so throwing your money at them is a big gamble, and same can be said for the recorded shows.
Only one payment option (Not that you will need it)
The way this site works is that you transfer funds from your credit card onto the site, and with it, you are paying for content and private shows. I would advise you not to do it unless you want to throw away some hard-earned money on sub-par content and lame live shows, neither of which will give you what you came for.
You should put your money into some more popular live cams, and get the treatment you deserve. LiveMuscleShow is ancient, it possibly had some following once, but it didn't stand the test of time, nothing about it is up to standard, and the list of cons is longer than could be put into words, so it's safe to say that this site is going to die out completely pretty soon.